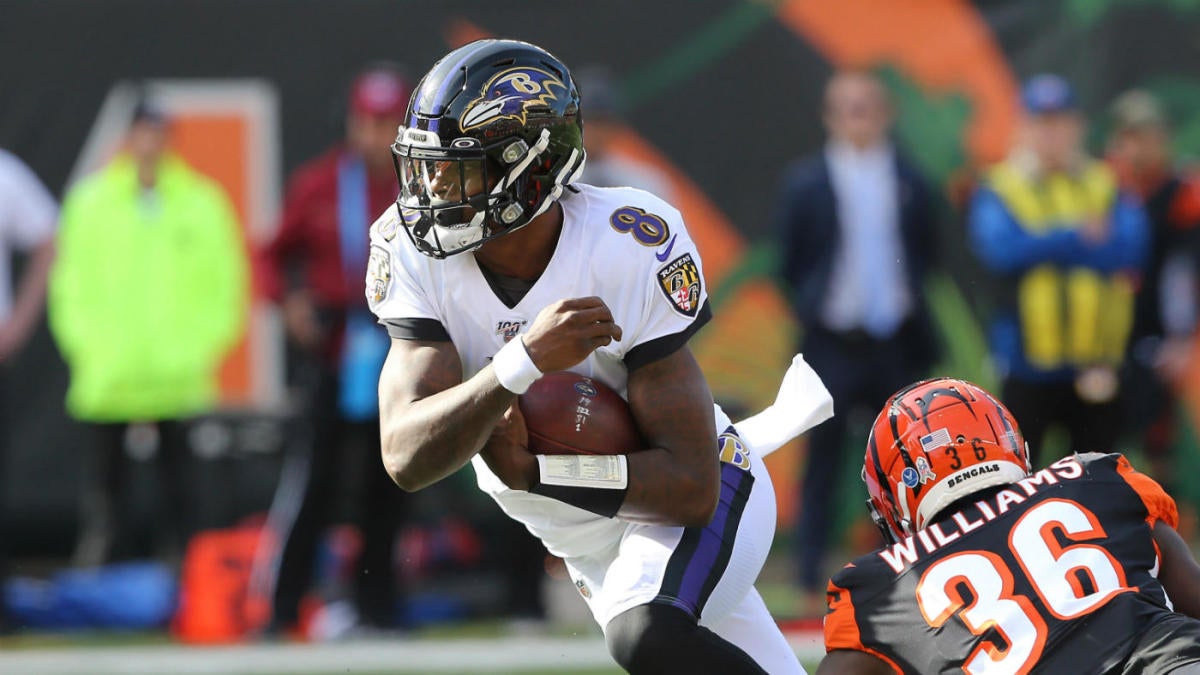 If Sunday's game against the Bengals was supposed to be a trap game for Baltimore, someone apparently forgot to tell Lamar Jackson about it.
With the Ravens coming off a huge win over the Patriots in Week 9, no one would have been surprised if Baltimore had overlooked the winless Bengals this week, but that's not what happened, thanks in large part to Jackson, who threw for 223 yards and three touchdowns in the Ravens' 49-13 win over Cincinnati. Oh, and he also rushed for 65 yards and another touchdown.
Basically, the Bengals had no answers for Jackson, who ran circles around the Cincinnati defense. Actually, they weren't technically circles; they were spin moves, as you can see on the 47-yard touchdown below that Jackson had in the third quarter.
A wild Week 10 is almost in the books and there's a lot to go over. Fortunately Will Brinson, John Breech, Ryan Wilson and Sean Wagner-McGough are here to break everything down on the latest episode of the Pick Six Podcast. Listen to the full show below and be sure to subscribe right here for daily NFL goodness fired into your eardrums.
Forget his legs though, because Jackson did most the offensive damage in this game with his right arm. The Ravens quarterback was on fire to start the game. Not only did he open things up with a 49-yard pass to Marquise Brown on Baltimore's first play from scrimmage, but he completed his first 11 passes for 171 yards and two touchdowns.
As if the Ravens offense wasn't scary enough, offensive coordinator Greg Roman showed off a few new wrinkles in his playbook that other teams are now going to have to study when they watch the Ravens on film. The craziest new play from the Ravens came out of a three Heisman backfield that featured Jackson, Mark Ingram and Robert Griffin.
Baltimore ended up running an option out of the formation, which went for a 12-yard gain by RG3.
With Jackson looking more and more comfortable every week, the Ravens offense has suddenly turned into the most unstoppable unit in the NFL, and with a defense that's playing almost just as well, the Ravens are looking like the Super Bowl favorite in the AFC.
Baltimore 49-13 over Cincinnati
Chicago 20-13 over Detroit
Cleveland 19-16 over Buffalo
N.Y. Jets 34-27 over N.Y. Giants
Tennessee 35-32 over Kansas City
Chiefs-Titans grades by Jordan Dajani (Love the grades? Hate the grades? Let him know on Twitter.)
Atlanta 26-9 New Orleans
Falcons-Saints grades by Tyler Sullivan (Love the grades? Hate the grades? Let him know on Twitter.)
Tampa Bay 30-27 over Arizona
Cardinals-Buccaneers grades by Jeff Kerr (Love the grades? Hate the grades? Let him know on Twitter.)
Pittsburgh 17-12 over L.A. Rams
Rams-Steelers grades by Bryan DeArdo (Love the grades? Hate the grades? Let him know on Twitter.)
Green Bay 24-16 over Carolina
Panthers-Packers grades by Cody Benjamin (Love the grades? Hate the grades? Let him know on Twitter.)
Miami 16-12 over Indianapolis
Dolphins-Colts grades by Sean Wagner-McGough (Love the grades? Hate the grades? Let him know on Twitter.)
Minnesota 28-24 over Dallas
Vikings-Cowboys grades by Patrik Walker (Love the grades? Hate the grades? Let him know on Twitter.)
Seattle 27-24 over San Francisco