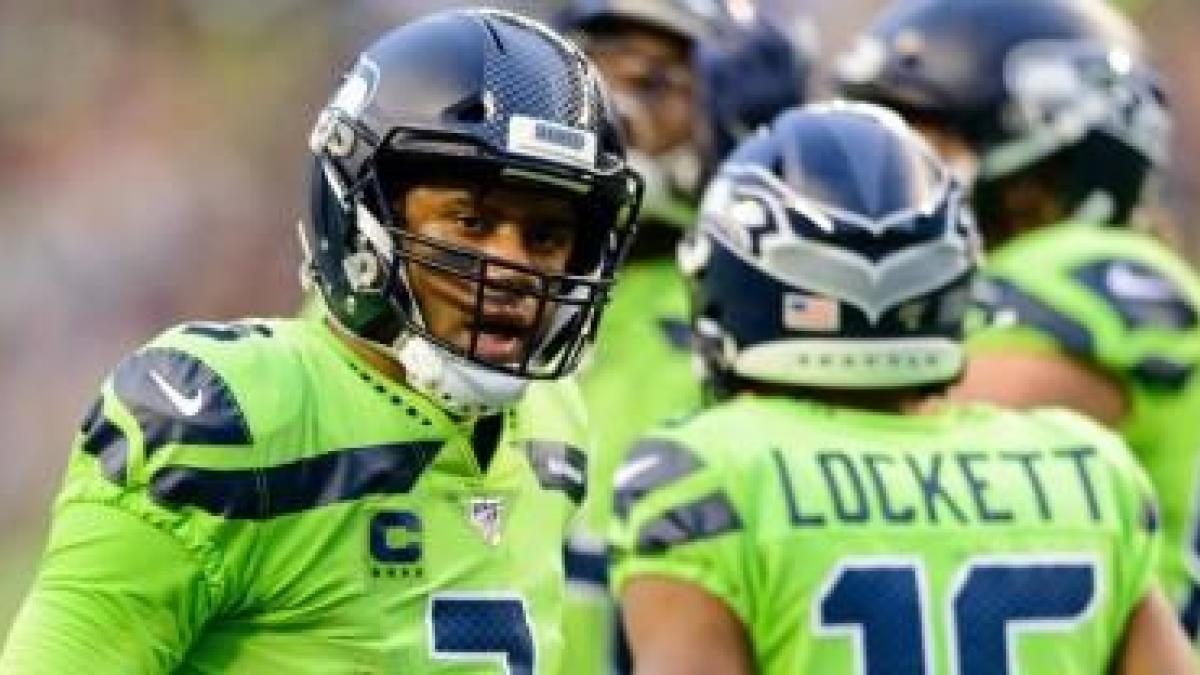 The NFL is a passing league. You know this. I know this. Just about everyone in the league knows this.
Because it's a passing league, quarterbacks are the most important players on the field. And just about every quarterback has that one pass-catcher he trusts more than anybody else — the guy he wants to go to in key spots, with the game on the line. With that in mind, we're going to use this space over the next several weeks to dig into some of the league's best passing-game combinations and what makes them tick.
We began by exploring the connection between Dak Prescott and Amari Cooper, which is defined by how each player has raised the other's game since they came together. Last week, we delved into Deshaun Watson and DeAndre Hopkins, whose partnership is defined by the degree of difficulty. Below, we'll continue with the union of Russell Wilson and Tyler Lockett, which is defined by improbability.
Just about nobody thought Russell Wilson would end up being this good — and that almost certainly includes the Seahawks. And it makes sense. Go look at Wilson's numbers during his time at NC State. He was 682 of 1,180 (57.8 percent) for 8,545 yards (7.2 per attempt), 76 touchdowns, and 26 interceptions. He was not really a pro prospect.
Then he went to Wisconsin and practically lit the world on fire, but on considerably less volume. (We'll come back to the low-volume/absurd-efficiency theme later.) During his lone season with the Badgers, Wilson was 225 of 309 (72.8 percent) for 3,175 yards (10.3 per attempt), 31 touchdowns, and just four interceptions. Incredibly, he was not considered the best or most important player on his own offense. That was Montee Ball, who had 307 carries for 1,923 yards and 33 touchdowns on his way to a fourth-place Heisman finish. (Wilson was ninth.) That backfield also included James White, who carried 141 times for 713 yards and six more scores.
Typically that type of season would lead to a player being considered a top prospect, but unfortunately for Wilson, he is only 5-11 and was considered a running quarterback, which at the time meant you were a mid-round pick at best. The Seahawks grabbed him at pick No. 75 overall — midway through the third round. He was not really expected to be the starter right away, or maybe ever. After all, Seattle had signed former Packers backup Matt Flynn to a three-year deal early in free agency. Of course, we all know what happened next. Wilson won the job in camp, the Seahawks quickly became one of the best teams in the NFL, and they won a Super Bowl in Wilson's second season.
But Wilson's ascendance to superstardom was still unexpected even after he won that ring. The Seahawks were widely considered a defense-first team that centered the offense around the Marshawn Lynch-led run game. And certainly, that was the case early on. Wilson was a low-volume quarterback, averaging only 25 pass attempts per game through those first two seasons. But much like he did at Wisconsin, Wilson displayed great efficiency on those attempts.
He averaged 8.09 yards per attempt from 2012 to 2013, third-best in the NFL behind only Peyton Manning and Aaron Rodgers. He threw a touchdown on 6.5 percent of his passes, third-best in the NFL behind only Peyton Manning and Aaron Rodgers. His 100.6 passer rating was fourth-best in the NFL behind only Peyton Manning, Aaron Rodgers, and Nick Foles. He engineered six fourth-quarter comebacks and eight game-winning drives, each of which ranked third-best in the NFL behind only Tony Romo and Andrew Luck. And then he won a Super Bowl. But he still wasn't considered a star. Five Pro Bowls later, in a season where he is one of the MVP front-runners, some people still don't accept that he's a star; the early-career perception of a quarterback as a game-manager tends to stick for a while.
Of course, anyone denying Wilson's stardom at this point is just ignoring reality. Among the 49 quarterbacks who have thrown at least 500 passes since 2014, Wilson ranks fifth in passer rating, sixth in yards per attempt, second in total touchdown passes, fourth in touchdow